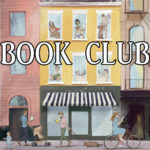 Book Club is a comedy variety show where hosts Colin Stokes and Blythe Roberson (The New Yorker, The Onion), along with some of NYC's best comedians, read the books so you don't have to. Held monthly at Union Hall.
Book Club decides to take it easy for once, so we read a children's book: Nancy Drew and the Clue in the Diary. Discussion topics include: how rich is Nancy? Is Ned actually hot? And why the hell is everyone so mean to Bess?
With: Jen Spyra, Nore Davis, Joe Zimmerman, Rebecca O'Neal and your lovely hosts Colin Stokes and Blythe Roberson
Live sound and recording by Harry Scott. Produced and edited by Shannon Manning.
Recorded live January 27, 2018 at Union Hall.
---
---