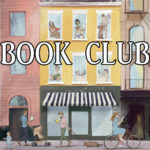 Book Club is a comedy variety show where hosts Colin Stokes and Blythe Roberson (The New Yorker, The Onion), along with some of NYC's best comedians, read the books so you don't have to. Held monthly at Union Hall.
This month's book Colin, Blythe and guest Catherine Cohen discuss Emily Brontë's WUTHERING HEIGHTS. It's a classic of Western literature, and every single person in it sucks.
Live sound and recording by Daniel Evanko. Produced and edited by Shannon Manning.
---
---