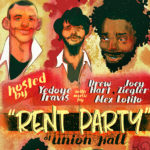 Featuring Kenny DeForest, Shalewa Sharpe, Will Miles, and hosted by Yedoye Travis
THE ORIGINAL LINEUP: Alex Pyle, Joey Ziegler, Alex Lotito, Andrew Gialanella
THE FIRST LIVE SHOW! Back to the beginning and the very first Rent Party with The Original Lineup! Kenny yells at the band, Shalewa is her amazing hilarious self, and Will leads an inspiring audience sing-along. Yedoye was a party fire (the opposite of a dumpster fire) — hosting solo, singing, and dancing (listen hard). A simpler time that wasn't at all simple.
Show Recorded July 18, 2016 at Union Hall. Live sound and mix by Alex Nahas. Produced and edited by Shannon Manning.
ABOUT RENT PARTY
Rent Party is a musical improv and stand up show that's about as much fun as you can fit into one place. Yedoye Travis, Farah Brook and the backing band, The Original Lineup, invite New York's best comedians to tell jokes and stories set to some of the best music in the city. Shows recorded every month at Union Hall.
---
---