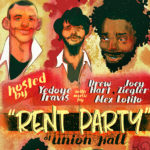 In this episode, comics Wendi Starling, Andy Sanford, Kelsey Caine, Khalid Rahmaan, and Jake Head were the most adventurous to date, really putting the band to work. And at the end host Yedoye Travis wouldn't let them STOP working, so stick around for the extended jam as only Yedoye can do. The Original Lineup that night featured Andrew Gialanella Joseph D'Alessio Andrew Mackasek.
Show Recorded September 02, 2016 at Union Hall. Live sound and mix by Alex Nahas. Produced and edited by Shannon Manning
ABOUT RENT PARTY
Rent Party is a musical improv and stand up show that's about as much fun as you can fit into one place. Yedoye Travis, Farah Brook and the backing band, The Original Lineup, invite New York's best comedians to tell jokes and stories set to some of the best music in the city. Shows recorded every month at Union Hall.
---
---